Your Half Day Swan Valley Pink Bus Wine Tour includes a customised itinerary tailored to suit your group. You'll visit your preferred selection of three Swan Valley wineries, breweries or distilleries for tastings with a delicious cheese plate or breads and dips included along the way.
We'll collect your group from the location of your choice, generally at around 11:45am depending on the location.
At each of your chosen venues your Pink Bus driver will deliver you to the cellar door and ensure venue staff know that you have arrived and are being looked after.
As time draws to an end at each venue your Pink Bus driver will provide the group with plenty of notice that it's getting close to move on time and will prepare the bus for your departure.
At the end of your unforgettable Swan Valley Pink Bus Wine Tour you will depart The Swan Valley at around 4:00pm and your group will be delivered to the location of your choice.
Image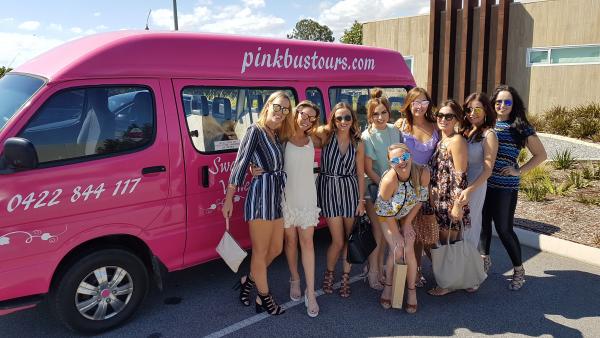 What's Included in your Half Day Wine Tour
Tastings at your choice of any combination of three (3) wineries, breweries or distilleries
Fabulous cheese board or tasting plate
A stop for chocolate
Pick-up and drop-off to your chosen locations within 25km of our Henley Brook depot
Minimum group size is eight (8)
Eight (8) to thirteen (13) guests = $100 per person
Fourteen (14) to twenty (23) guests = $95 per person
Twenty (24) or more guests = $90 per person
Organising Your Wine Tour
Organising an event for any group can be hard work! We do this every day and we have the contacts, so let Pink Bus Tours do the hard work.
When you book with Pink Bus Tours all you need to do is tell us:
How many people will be in your group
Where you would like to be picked up from and dropped off to
Which wineries, breweries or distilleries you would like would like to visit
That's it, we'll take it from there. We put together a draft itinerary for you and once you confirm it's what you want we'll work with the venues to confirm all bookings.
Swan Valley Wine Tour Ideas
Looking for ideas for your next family, social or corporate event. Not sure what The Swan Valley has to offer. Not sure which venues would be right for your group. We'll work with you to organise an unforgettable Pink Bus Wine Tour.
We'll help you select the right mix of venues to create a fun and enjoyable day out:
Wine tasting at The Swan Valley's best wineries
Beer tasting at a range of boutique breweries
Fantastic cocktails and spirits from award winning distilleries
Sample unique ciders
Gourmet cheese boards and tasting platters
And more!
Sample Itinerary
Below is a sample Full Day Wine Tour itinerary; pick-up and drop-off locations, venues and times can all be customised to suit.
11:45 - Pick-up from Perth Train Station
12:30 - Ugly Duckling Wines (Wine Tasting + Cheese Plate)
13:30 - Heafod Glen Winery (Wine Tasting)
14:30 - Lancaster Wines (Wine Tasting)
15:30 - Whistler's Chocolate Company
16:00 - Depart with drop-off to Northbridge
Party Bus Wine Tours
Party buses in The Swan Valley are generally associated with poor behaviour and many venues simply won't accept them. At Pink Bus Tours we don't do "party bus", but we do do "party". We believe in making our wine tours a great experience from beginning to end, not only for you and your group, but also for the patrons and staff at the venues we visit. And because we don't do "party bus" we have built strong relationships with venue owners and management allowing Pink Bus Tours access to venues in The Swan Valley that party buses do not have, so you have a greater choice of venues to experience and enjoy.
Venue Information
We visit just about every venue in The Swan Valley; we work closely with our partner venues listed below to develop the best value package options for our guests. Click the venue names to see what options are available at that winery, distillery or brewery on a Pink Bus tour. If a venue you'd like to visit is not listed it doesn't mean we don't go there, just let us know where you would like to visit and we'll do our best make the arrangements.