Image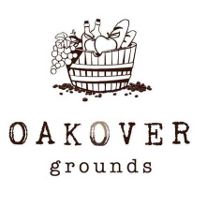 Surrounded by lush lawns, mature trees and the stunning Oakover vineyards.
The restaurant is an industrial style warehouse designed with a casual but eclectic feel featuring a long tasting counter for wine or coffee and plenty of places to lounge and catch up.
Half Day Tour Options at Oakover Grounds
Oakover Grounds can be selected as a wine tasting stop or a wine tasting stop accompanied by tasty breads and dips on our Half Day Wine Tour.
Full Day Tour Options at Oakover Grounds
Oakover Grounds can be selected as a wine tasting stop or as a wine tasting stop with lunch on our Full Day Wine Tour.
Wine Tasting
Tasting wines at Oakover Grounds include their White Label Wines, Chardonnay, Pinot Noir, Sparkling and their Ministry of Leisure Moscato.
White label Wines
Classic White
Unwooded Chardonnay
Sauvignon Blanc
Semillon Chenin Blanc
Shiraz Cabernet Merlot
Lunch Options
Pink Bus Tours lunch options at Oakover Grounds include your choice either Small Mains with a Side or a Large Mains:
Small Mains

Fresh Tomato Bruschetta goat's curd, balsamic glaze, grilled garlic sourdough (GFO) (V)
Baked Brie, local swan valley honey, walnuts, artisan bread (GFO)
Pumpkin and Pine Nut Arancini with herb aioli shaved parmesan (V)
Beef and Bacon Sausage Rolls with tomato relish
Organic crispy Chicken Wings with smoky paprika salt, chipotle dipping sauce (GF)
Cheese, spinach, chickpea Quesadilla, jalapeno sour cream, tomato relish

Sides

Hand cut Chips with aioli (GF)
Sweet Potato Chips with nacho cheese sauce
Chefs' seasonal Side Salad (GF)
Bread & Butter (GFO)

Large Mains

Salt & Pepper Squid with piperade, cucumber, tomato, dressed leaves & Nam-Jim dipping sauce (GF)
Roast Pumpkin & Brown Rice Salad with grilled Mediterranean vegetables, asparagus, pomegranate & herb goat's curd
Oakover Caesar with baby cos, garlic croutons, crispy bacon, herb aioli, shaved parmesan (GFO) (VO)
Roast Pork Belly, sidekick cider apple sauce, Asian salad (GF)
Bec's BLT, grilled bacon, tomato relish, lettuce, tomato, aioli, Turkish bread & chips (GFO)
Angus Beef Burger, bacon, American cheese, tomato relish, pickle aioli, milk bun & chips (GFO)
Orecchiette, grilled Mediterranean vegetables, chorizo, spinach, herb goats cheese (VO)
Kaffir Lime & Lemongrass Chicken steamed jasmine rice, bok choy (GF)
(GF) – Gluten Free, (GFO) – Gluten Free Option, (V) – Vegetarian, (VO) – Vegetarian Option (*) – Contains Nuts
Image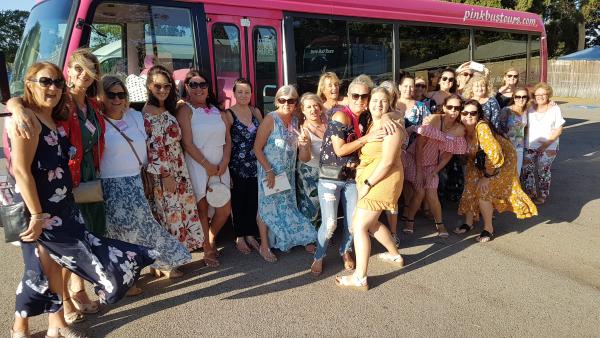 Swan Valley wine tours are perfect for sampling the delights of The Valley's food and wine trail. Enjoy wine tasting and wineries on a Pink Bus wine tour.
Image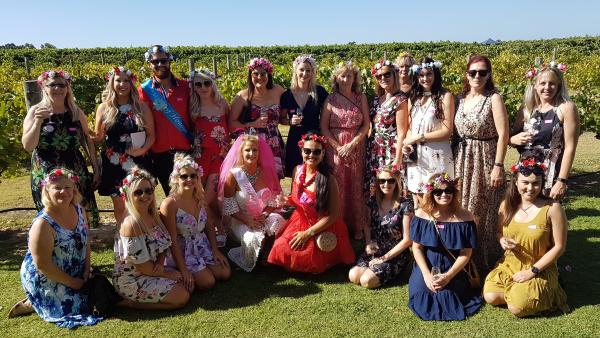 What better way to celebrate the transition from Miss to Mrs than with a day of fun and decadence on a Swan Valley Pink Bus Hens Party Wine Tour!
Image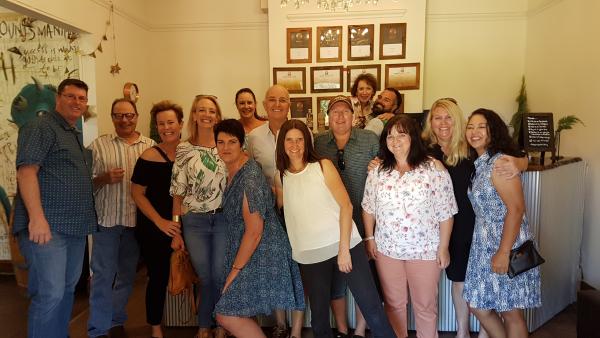 Our Pink Gin distillery tour visits four of Perth's top gin distilleries and includes a stop for lunch at the Swan Valley's favourite "Eatery & Drinkery".